When considering home dance floors, different styles of dance will require different types of flooring. In some situations, you can use flooring surfaces already present in your home. Some dance styles require making a purchase or getting creative. Here are some options for you to consider when practicing at home or taking online dance lessons.
For ballet, you use a soft shoe with a suede bottom. That means vinyl and wood flooring are very friendly for this style. It will be helpful to have about 6 feet of free space around yourself to move. This includes headroom for changing levels (as in plié) or for drilling basics (pirouettes/jumps/turns). Across-the-floor combinations will need to be strongly modified to suit your available space.
If you don't have a hard flooring surface, carpeted floors can work for ballet. They aren't as ideal, and can sometimes give you shocks if the air is very dry in your home. But dancing on carpet isn't impossible. Depending on the cushion under the carpeting, it might also create an additional challenge in finding balances. As long as you have a barre or a hard-backed chair to use as a barre, you should be fine.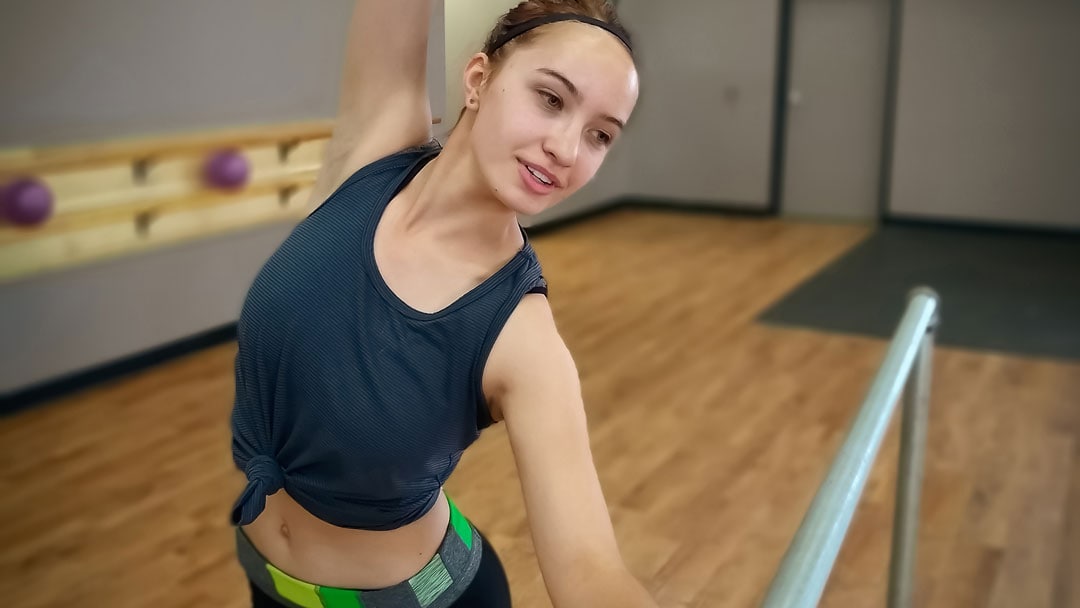 Musical Theater Dance Flooring
From soft jazz shoes to split-soled sneakers, heels or oxfords, shoes for this style of dance vary quite a bit. Therefore, so do your flooring options. Suffice it to say, you will need ample space and ideally a harder floor. First, try dancing in your shoes in a corner of the room to see if they scuff or mark up your flooring surface. Use a hard-backed chair for safety if you are prone to losing balance. Concrete can work for musical theater dance, but it is very hard on your joints and might be uneven.
This is a dance style that requires a hard surface to get the same percussive sounds you have in a dance class. However, tap shoes can easily abrade softer vinyl and wood surfaces. Tile is NOT recommended because of safety (they are very slippery in tap shoes) and aesthetics (tiles aren't safe from tap shoe damage). Even some carpets have the potential of getting pulled by the taps or the screws (if there is any space between the screw and the shoe). For this reason, we recommend practicing tap on a piece of plywood. That plywood could easily go on top of a rug, or concrete, and will limit or outright eliminate the possibility of floor damage.
You can always practice tap dance in sneakers on concrete (basement, garage, driveway) or on carpet, but you will sacrifice the satisfying sound of the taps hitting the floor.
Home Dance Floor Upgrades
If you practice at home often enough, it might warrant looking into the dazzling array of practice floors available from commercial dance flooring companies. Dance Equipment International is a wonderful resource. They provide many products and a guide to marley dance floor for tap. There are many other companies out there if you have the interest to upgrade your home dance floors.
Corrie Beula Kovacs
Instructor, Show How Studio
Corrie Beula Kovacs has found a niche providing expert training in theatrical voice and dance. She brings a wealth of performing experience to her instruction, including NYC credits and Broadway tours. She is an adjudicator and workshop provider for the Fox Cities Performing Arts Center, as well as co-author of We Like It Where?, an original musical that premiered at Northern Sky Theater in Door County in 2019.
MASTER YOUR PERFORMING ARTS SKILLS
Book a lesson today and start telling your story.