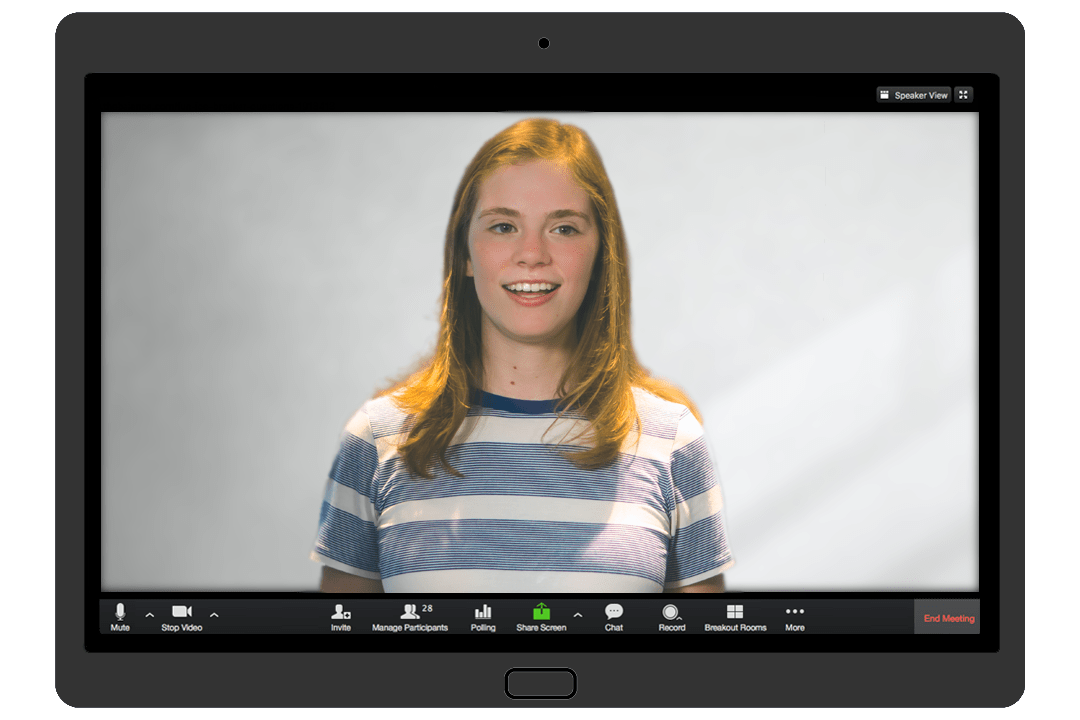 Online singing lessons, acting lessons and audition coaching are now available at Show How Studio. This is a convenient way to study with our instructors when time, distance or other circumstances prevent you from studying in person.  Get the same expert training from the comfort of your own home. All you need is a computer, tablet or phone capable of running Zoom. Here's how to get started with Show How Studio online lessons.
ACCESSIBLE – study with us from anywhere in the world
CONVENIENT – train in the comfort of your home
PERSONALIZED – one-on-one instruction
Our online singing lessons, acting lessons and audition preparation provide the same high-quality instruction as in-person lessons. Local students can book in-person and online lessons at your convenience to accommodate busy schedules and travel.
Show How Studio provides online singing lessons, acting lessons and audition coaching using Zoom. Zoom is a free-to-use platform that is available for Windows and Mac computers as well as Android and iPhone operating systems. Students do not need a Zoom account to take online lessons. For mobile devices, students may need to download the Zoom app. The app is also available for computers but meetings can also be accessed using a computer's web browser. 
Setting up for an online lesson:
Confirm you have a device that is compatible with Zoom.
Consult the Getting Started article for Zoom.
If using a computer, check the settings in the Zoom app to confirm your microphone and webcam are set up and working properly.
Visit our booking page. If you already have an account, log in. Select Private Lessons from the services menu and click the Book button under Online Lesson.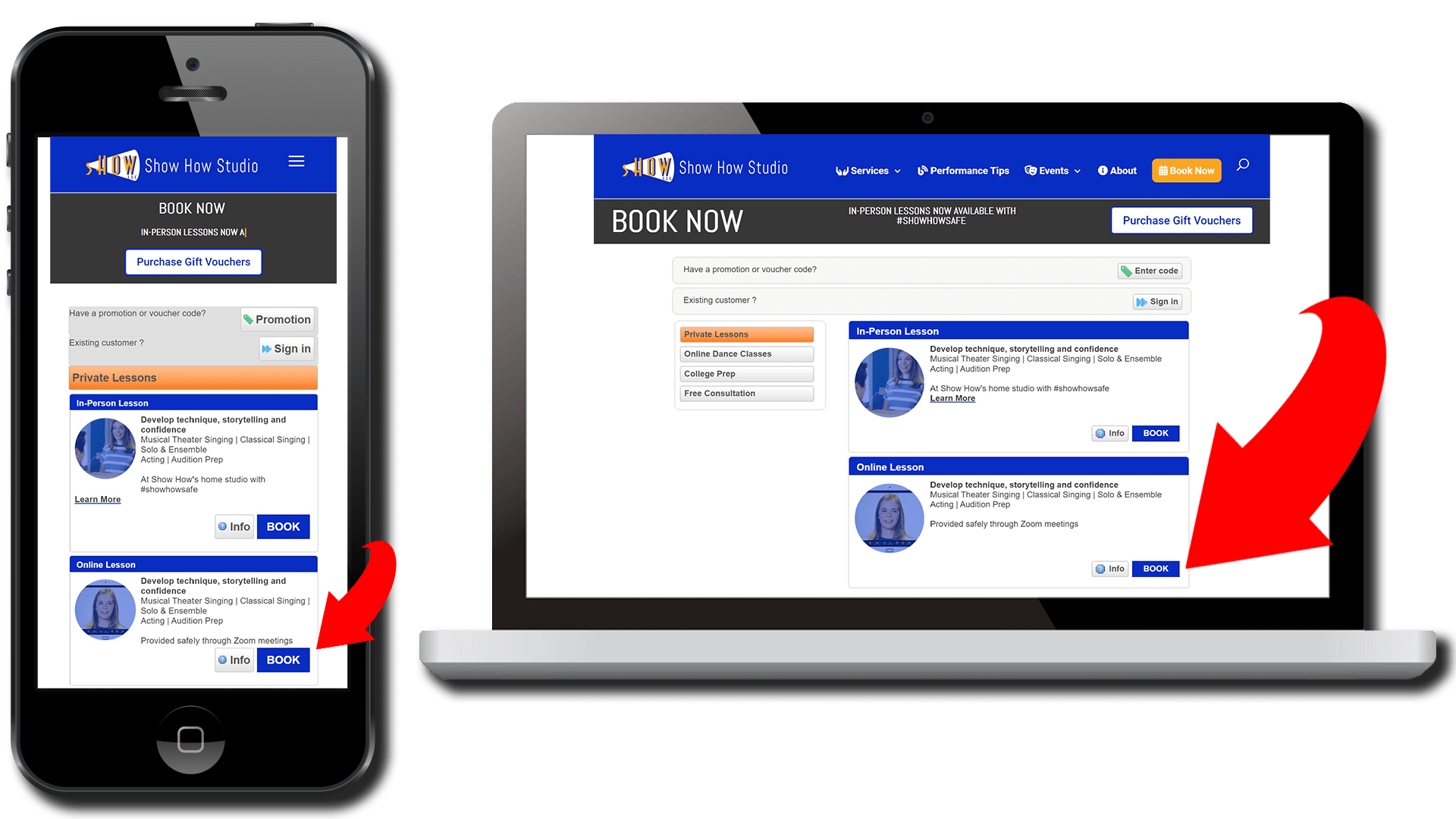 Step 2 - Check Your Email
Continue booking your online appointment by selecting the lesson duration, teacher, participant, date and time. After you've completed the checkout for your booking, you will receive a confirmation email. This message will include a "Join" link for your scheduled lesson. You can click on this link at your lesson time to join the meeting for your lesson. The confirmation message will also have a calendar event file (.ics) attached so you can add your appointment to your Google or Apple calendar. You can then click the Join link from your calendar event.
FOR CONSULTATIONS: You will first receive notice that your booking request has been received. A Show How Studio staff member will then review your booking request. Once the request has been accepted, you'll receive your confirmation message with the Join link for your online meeting.
If you do not receive a booking confirmation, it is likely that you did not fully complete the booking process or the message was filtered into your spam folder. If you did not receive a confirmation, or if the Join link is missing, email us as soon as possible.
Step 3 - Join Your Meeting
When you click the Join link from your confirmation email or calendar event, you will either be redirected to your web browser (computer) or Zoom app (tablet/phone). If you have the Zoom app installed on your computer, your browser will ask if you'd like to open the meeting in the app. Once you've joined the meeting, wait for your instructor to admit you. Then activate your microphone and webcam to begin participating in your lesson.
Your online lesson experience can be enhanced by following these guidelines:
Find a space that is relatively quiet and well-lit, with minimal clutter behind you.
Devices that are plugged into a network with an ethernet cable are preferred to wireless devices.
An HD webcam will provide your instructor a better picture.
An external USB microphone can help minimize noise and distortion. Show How Studio uses and highly recommends a Blue Yeti Nano microphone or similar device.
If you need to use any audio tracks, have them ready to play on another device with sufficient volume.
Resources such as sheet music and accompaniment tracks may be sent by your instructor in advance of a lesson. Have these resources ready and available at your next lesson.
We hope that providing the added flexibility of online singing lessons, acting lessons and audition coaching will be a useful tool to help you master your performing arts skills.
MASTER YOUR PERFORMING ARTS SKILLS
Book a lesson today and start telling your story.
Steve Kovacs
Instructor, Show How Studio
Steve Kovacs has amassed a wealth of knowledge and experience in his 15+ years as an arts educator in public schools, theatrical productions and private teaching. He is an honors graduate of The Miami University (Ohio), an adjudicator and workshop provider for the Fox Cities Performing Arts Center, as well as co-author and composer / lyricist of We Like It Where?, an original musical that premiered at Northern Sky Theater in Door County in 2019.